Forever 21
Leopard Cardigans and Sweaters: Leopard print is everywhere this fall-- shoes, clothes, handbags, accessories, you name it and they're a leopard print form of that. You can find leopard and cardigans anywhere. Victoria's Secret has a tan one as well as grey. You can pair it with skinny jeans or jeggings or even wear over a dress.
Forever 21
Crochet: These sweaters are making a come back. They have a very cozy look and are easy to match. I recently purchased one on sale ($19.99) from Urban Outfitters that is perfect for the fall weather. I think they look best over skinny jeans and nice tall boot.
Urban Outfitters
Striped Cardigans and Sweaters: Stripes have been appearing in every season this past year. The skinnier stripes are more flattering on people and in my opinion look better overall. The one pictured above is from Urban Oufitters but I've been seeing striped sweater and cardigans everywhere from department stores to small boutiques. They go great with a pair of leggings and a t-shirt underneath for a casual look or jeans and a beaded top for a more put together look.
Urban Outfitters
Christmas Sweaters: Everyone always makes fun of people who wear these types of sweaters but not anymore. They are coming back in new styles and a little bit modernized. Wearing one of these in my opinion takes me back to Christmases in the 90s. As long as you don't wear one of these with mom jeans you're set. But I know mom jeans are some people's style so if you wear it with those you'll just be incorporating a current trend into your personal style, which is always a good thing.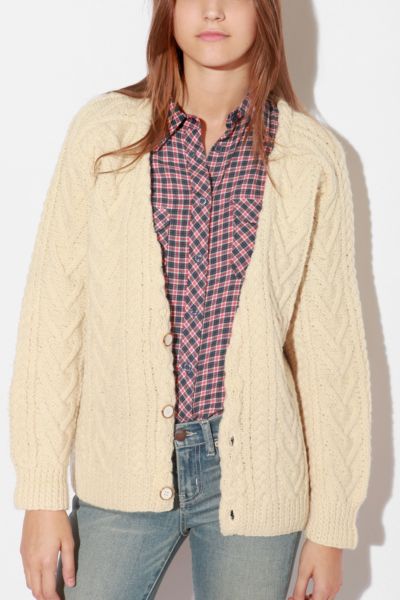 Urban Outfitters
Fishermen Sweaters: Fishermen sweaters are an Irish tradition. My dad has one since he is Irish and I always wanted one and pleaded and pleaded my mom to knit me one. Every family has their own stiching pattern which makes them unique. These are usually a cream color like the picture above which makes it very easy to match.



Sweaters are a fall and winter staple, in my opinion. They cozy-up any outfit and keep you warm with the crisp winds that come with fall. They are so easy to match and look great with practically every outfit.

xoxox